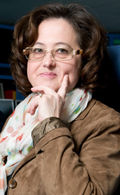 Solange Ghernaouti is professor in the Faculty of Business and Economics of the University of Lausanne, where she founded the Swiss Cybersecurity Advisory and Research Group. This group deals with the socio-economic, managerial, legal, and technological dimensions of information and communication technology security. Her main focus for several years as a pioneer in the field has been on developing an interdisciplinary and integrative cybersecurity approach for citizens, organisations and states that aims to respond to the real needs of society. After previously having worked as a network architect, an ISO standardisation expert, and a marketing product manager for international IT companies in France, she became, in 1987, the first woman professor of her Faculty.
Professor Ghernaouti is an internationally recognized expert on cybersecurity, ICT Risk management and cybercrime related issues. She has contributed to several initiatives organised by international organisations, public and private institutions, research centres, and among other instances of professional recognition all around the globe.   She is an active independent security advisor and an influential analyst on cybersecurity, cyberdefence, cybercrime and cyberwarfare matters. She is a regular media commentator and a prolific author. She has authored more than 200 publications and more than twenty five books on telecommunications and security issues.
Solange Ghernaouti has repeatedly been recognised by the Swiss press as one of the outstanding women in professional and academic circles. She has been nominated as one of the hundred most important personalities who represent French-speaking Switzerland (Forum des 100, L'Hebdo, 2011); was included among the three hundred most influential personalities in Switzerland (Bilan, June 2011); was ranked among the twenty women who represent Switzerland (Bilan, 2012); and is one of the hundred most powerful women in Switzerland (Women in Business, 2012). 
Professor Solange Ghernaouti in brief
Doctor in Computer Sciences & Telecommunication of the University of Paris (Paris VI- Sorbonne)
Director of the Swiss Cybersecurity Advisory and Research Group
Director of the Complexity Science Research Group
President of the Social Commission of the University of Lausanne
President of the Fondation Erna Hamburger
Knight of the Legion of Honour
Member of the Swiss Academy of Engineering Sciences (SATW)
Member of the steering committee for the strategic direction of crisis and cyber-risk management of the Federal Chancellery
Member of the Association des Réservistes du Chiffre (ARCSI)
Member of the Permanent Monitoring Panel on Information Security of the World Federation of Scientists